Swimming in Athens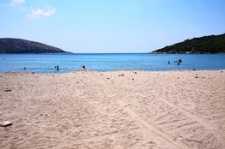 You have a few nice beaches not far from central Athens. They will not be deserted though, especially on weekends. You can reach many of them by tram or bus.
Don't forget the option of lovely Lake Vouliagmeni.
Here are some beach suggestions:
Beaches Reachable with the Tramway number 5 , direction Voula, starting from the upper part of Syntagma Square:
Tip: The tram runs along the sea coast for most of the time. You can have a look at the sea and beaches from the tramway and decide where to get off.
Kalamaki:
Right off the road, this is the closest beach to Athens, but not the most pleasant. Its entrance is free, yet there are sunbeds and showers, a coffee shop etc. It is usually crowded in the summer. Tram stop Kalamaki.
Alimos – Akti tou Iliou:
This municipality beach is close to Athens, and can get quite crowded, especially on weekends. It is organized with showers and sunbeds, bar and restaurant etc. There is an entrance fee (7 euros on weekdays including a lounger, 8 euros on weekend not including lounger). Tram stop Zefyros.
Alimos – Ammos Beach:
A little further down is another organized beach that does not charge entrance fee. Besides for sunbeds and umbrellas, showers, bathroom and a coffee-restaurant, it offers inflatable castles and slides on the water for the children. Tram stop Loutra Alimou.
Voula Plages
These are the furthest beaches you can reach with the tramway. There is an organized and pleasant sandy beach with entrance fee, with sunbeds and all regular beach amenities: Thalassea or Plaz A' Voula, Tram stop: Asklipio voula. You can also find there nice little coves with no entrance fees, and no amenities available.
Beaches reachable by bus or car
Bus E22 leave from Akadimias bus station (metro station Panepestimiou – red line) and go to Vouliagmeni and Varkiza and all the way to Saronida. The bus also makes a stop on Amalia Avenue on the upper part of Syntagma Square (in direction of South), but you may not get a seated place there.
Kavouri (in front of Apollon Divanni Hotel)
This is pleasant sandy beach. It's quite popular with Athenians, so expect it to be crowded. Bus stop: Ag. Nikolaos, then walk 5 mn. About 20 km from central Athens.
Vouliagmeni
The bus then reaches the sandy beautiful beaches of Vouliagmeni, bus stop: Laimos, then walk 5 minutes. The beach of Vouliagmeni Akti is fully equipped and very pleasant (entrance fee), and on the other side of the road further down you have the fancy and expensive beach of Astera Vouliagmeni (entrance fee). About 22 km from central Athens.
Varkiza
Further south, Varkiza is a beautiful long stretch of sand, with two large organized beaches (Do It, and Yabanaki) and a couple of free others. These beaches are popular with Athenian families. Bus stop: Plaz Varkizas. About 26 km from central Athens.
Ag. Marina, Lagonissi, Anavyssos etc….
As you continue towards Sounio and get further away from Athens, the beaches become less crowded. The water is extra clean, the scenery beautiful. There are very pleasant sandy coves, some more organized, and some less. Have a look from the bus/car and decide where to get off.